Email has proven to be a fantastic way to reach more potential clients and to cultivate relationships with prospects. Across online marketing channels, email marketing has one of the highest return on investment ratios, especially when used in conjunction with other marketing tactics, i.e. Social media, inbound strategies, etc.
So how do you grow your email marketing list to an amount that will actually help to bring in more business? We've researched to find the fifty best ways to grow your email list. Enjoy!
1. Use an old fashion paper sign up sheet
This strategy works whether you own a brick & mortar store or an online shop. Somewhere in the transaction phase, include a field where customers can add their email addresses and sign up for your newsletters or sales emails. Make sure you tell them how often they can expect to see your newsletters in their inbox, as well as what the content will be. If you're still tweaking how often you'll send, keep that info vague and focus on what they'll find in your newsletters, rather than when they'll see them.
2. Use YouTube Annotations
At the end of your videos, take a few moments to say something like, "If you enjoyed the video and want to stay up to date with my latest content, be sure to visit my website and subscribe to my email list."
Another powerful way to grow your email list is through annotations — popups that appear in videos and allow viewers to directly interact with you by clicking a button. It's the easiest, most direct way to get viewers to your website and encourage them to join your email list.
3. Look at your existing database
You have this existing list of clients/customers, why not put it to work. Send out a request to your existing database to join your list, and explain the benefits or what they'll learn from your emails.
4. Collect business cards in a fish bowl on your counter
I think you can handle this one on your own.
5. Participate in Small Business Saturday
Small Business Saturday was started in 2010 and founded by American Express. It's the Saturday after Thanksgiving, and encourages people to spend money at local small businesses versus big box stores. It's a great opportunity for you get your list in front of more people.
6. Add a signup form on your Facebook Page
Adding your sign up form to Facebook is a great way to turn followers into subscribers! Most email clients like MailChimp, Aweber and Constant Contact offer apps for this. If you're looking for instructions on adding this, use these links:
MailChimp          AWeber              Constant Contact
7. Tweet Tweet Tweet it
Tell followers on Twitter about your email lists and why they should be signing up for it.
8. Use Your Facebook cover photo
Highlight your email list in your Facebook Cover Photo. For some examples, click here:
10 Ways to Use Your Facebook Cover Photo

9. Use Facebook ads
Facebook Ads are the best thing since sliced bread. You can target users you feel are more interested in your articles than others, and advertise your email signups directly at them.
10. Connect your mail client to YouTube (Constant Contact)
Zapier offers a pretty slick integration for Constant Contact with YouTube. Find it here.
11. Join LinkedIn groups
Join a LinkedIn Group and share your posts and insight. Comment and interact with others and remind them how they can sign up for your list.
12. Join a Google+ Community
Just like with the above mentioned LinkedIn Groups, you can use Google+ the same way. Be real, interact, and subscribers will come to you as they begin to trust your opinions and views.
13. Host a tweet Chat
Tweetchats are a great way to put yourself in front on potential subscribers and position yourself as the expert. Ann Smarty wrote a great post on Tweetchats that you find here.
14. Add a signup link to your social bios
15. Sample your content on Pinterest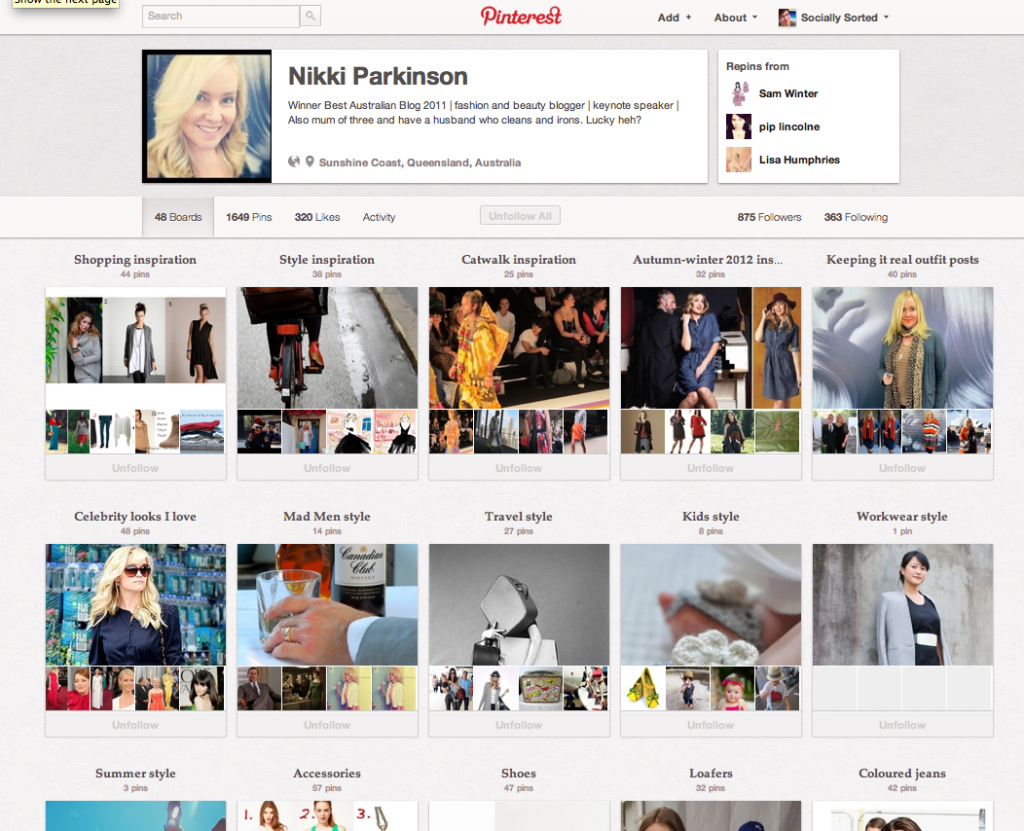 16. Add a signup form to your website
Traffic is already coming to your website (hopefully), so encourage visitors to subscribe while they're on your page.
17. Create a "Reasons to sign up page"
What benefits will readers receive by subscribing to your email list? Write them out and post it on your blog/website. Make sure it's clear and maps out when subscribers can expect to see your emails.
18. Keep your signup form short
Make it simple for subscribers to signup with a very short form, maybe even just name and email. If you're concerned about your tracking, there are ways to track what pages the forms are submitted from, and many WordPress plugins also offer this option.
19. Add a signup form to your blog
How'd this get down here, it should be first. If you don't have a signup form on your blog already, stop reading and go do it now. If a visitor is already reading your content, make sure to give them an option to get more of your content.
20. Guest Blog
A lot of bloggers just write on their own blog and then wonder why no one is reading it. Well, it's probably because no one knows it exists! Use guest posts as a starting point to get your name out there. Write more on other blogs than your own until you have a big reader base.
21. Comment on blog posts in your industry
Share your insight and interact on other blogs in your industry. It's a great way to express your views in a public setting, and entice readers back to your blog.
22. A/B Test different Call to Actions
We recently posted about the best ways to A/B test items on your website and blog, and you find that article, here.
23. Add Signups to online payment forms
If you run an online store or take payments online, include an option for the customer to be added to your email list. A simple checkbox will do the trick quite well.
24. Start a podcast
Are you podcasting? If so, mention in your podcast that if the listener if interested in more information and content, they can subscribe.
25. Add share buttons to your emails
A must-have. Include social sharing buttons in your emails so readers can repost and Retweet your content.
26. Add a forward button to your blog articles
Give readers the ability to forward an article that they're enjoying to a friend or colleague.
27. Add a signup link to your email signature
This is a great way to grab attention of people you are already conversing with. If you need help editing your Outlook signature, use these instructions here.
28. Use Quickview app for Constant Contact to add emails on the go.
Here's a link to more information on QuickView
29. Use a QR Code
30. Add signup options to Event Registration Forms
If your hosting an event, take signups online and include an option to join your list. It's a great and easy way for people to opt-in.
31. Collect Email Addresses at your event
When hosting an event, remind people that they can be signed up by filling out a form or dropping a business card off with you.
32. Run a Facebook Contest
The buzz surround Facebook contests has certainly died down recently, but they are still a very effective way to increase blog subscribers on your list.
33. Start a Loyalty Program
If you have a product or service, you can begin a loyalty program with incentives that requires an email address and initial signup to your list.
34. Start a birthday club
Who doesn't like receiving something for their special day? Create a birthday program and giveaway something to your customers on their birthday. Require them to sign up for your email list in exchange.
35. Run a local special/deal
36. Use a piece of content
Dangling a helpful guide or spreadsheet for download is great for collecting email addresses. For example, have you been looking for Facebook Cover Templates? Get them here.
37. Offer an incentive to employees
Ask your employees to collect subscribers and offer an incentive for them to collect as many as possible.
38. Use Popups, slides on posts
Popups work. They may seem annoying at time, but seriously, they work.
39. Create an Exit Popup
Exit popups seem to be extremely popular nowadays. It's because they're a great way to grab a subscriber before they hit the back button. There are a number of services and plugins that you can use, like this one.
40. Use Multiple Call to Actions
"You don't know if you don't ask," right? Make sure your articles have multiple calls to action to encourage visitors to become subscribers.
41. Giveaway something valuable
People love to be the winner of anything free. Give away a chance to win gift cards or tablets, in exchange for names and email addresses.
42. Use Social Proof


43. Have an incentive for email signups
Give away discounts on purchases for new subscribers
44. Host Webinars
Collect email addresses when you host your next Webinar. It's a great way to grow your list and, position yourself and your organization as the trusted resource.
45. Create an Email Course (Drip)
Take a few of your blog posts about a particular subject and create a drip campaign. Have the emails sent out once per day for a week or once a week for a month, all around a particular subject in your field.
46. Use HelloBar
HelloBar a website/tool owned by Neil Patel that lets you put a message and a button on top of your webpages. It's a really cool way to divert traffic to a landing page or a mailing list sign up area, and it works really well.
47. Use Twitter DM's and offer an incentive
I personally dislike when people send me auto DM's. But, you don't have to send auto DM's to send a quick message to someone telling them about your list and the benefits. Don't be a robot, be real. It's 10 seconds of work that may turn a new follower into a subscriber.
48. Send RT's and Thank You tweets to anybody that shares your content
If someone if sharing your article, make sure to thank them. People love personalized "thank you" mentions on Twitter, and will encourage them to learn more about you and your company.
49. Go to networking events
Networking events are a fantastic way to not only meet people in your community, but a perfect place to collect email addresses and (with their permission) add them to your email list.
50. Blog religiously
Nobody wants to sign up for something that will send them valuable info once every six months. They also don't want to come back to your blog to find nothing new and fresh. So, blog religiously. Make sure you stay on schedule, and provide valuable content. Your readers will thank you.
Have you found other ways to grow your email lists? What's working for you?

IF YOU ENJOYED THIS POST, GET UPDATES. IT'S FREE.